Many artists go from paper to pixels. Meet the artist that does the opposite.
After seeing his work in our Facebook community, we asked Richard to share some insight into his unique work-process. This Californian-based artist paints spectacular digital portraits, then turns them into one-off masterpieces by printing and painting over them by hand.
We cover everything from his roots to his tools and techniques, including his digital-to-paper approach (and why he secretly resents it).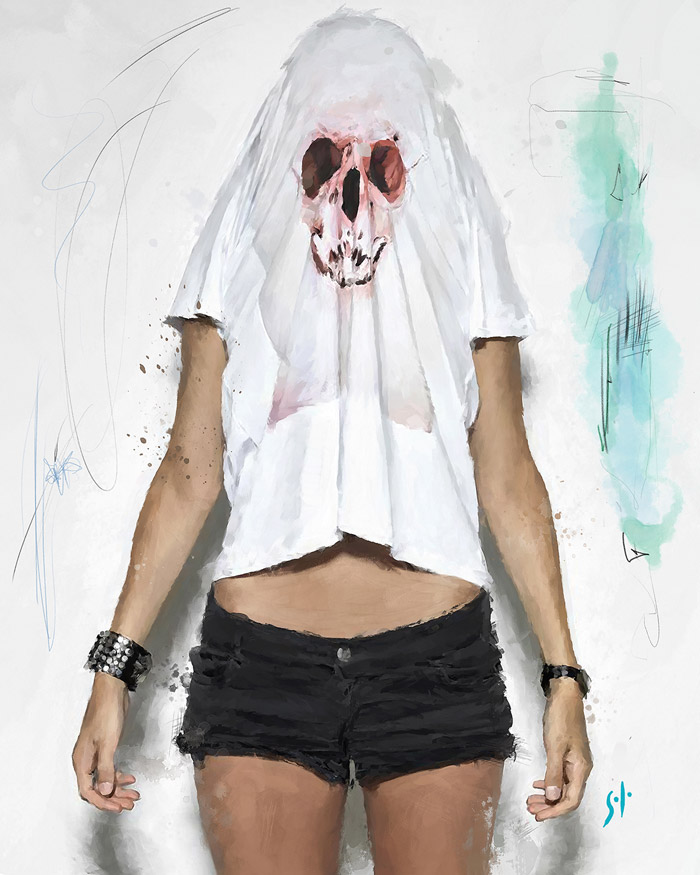 "U Can't Hide" 16 x 20 inches. Mixed media on paper.
Hi! I'm really flattered that you asked me to do this and happy to share my story. My name is Richard Johnson, I am an artist who mostly paints digitally these days.
I'm originally from Colorado in the USA and now live in sunny Los Angeles, California. I went to art school with the idea of studying illustration and becoming a professional illustrator.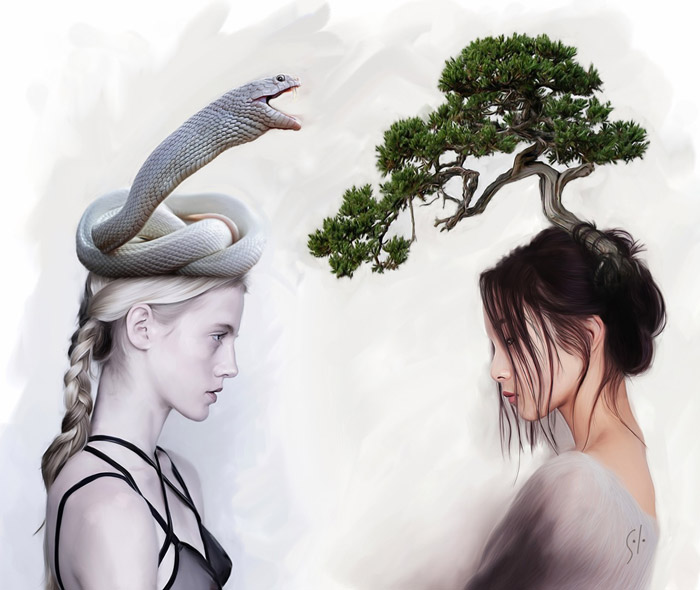 "East/West" – 14 x 12 inches
How did you get started with digital painting?
I worked for years using traditional paints, pencils, pastels, etc, but I've always been fascinated with creating art and graphics on the computer. I've played around with digital art since way back, when the software available for art was very simplistic and not capable of what I'd call "professional quality" art.
Still, I have always experimented with every new version of any graphics software I could get my hands on, from vector graphics to digital sketching/painting to 3D modeling and sculpting apps. As the software matured, it got to a point where it WAS possible to use it to create art that I felt proud to show to people. This is when I began to migrate from traditional painting and drawing to digital painting and drawing.
Who have been some of your heroes and inspirations?
Most kids have professional athletes as heroes. My heroes were famous illustrators like Bob Peak, Mark English, Robert Heindel, Ralph McQuarrie, Chris Van Allsburg, Fred Otnes, Bernie Fuchs, Alan Cober and others. I was fortunate to study under and ultimately commission artwork from some of these giants of illustration.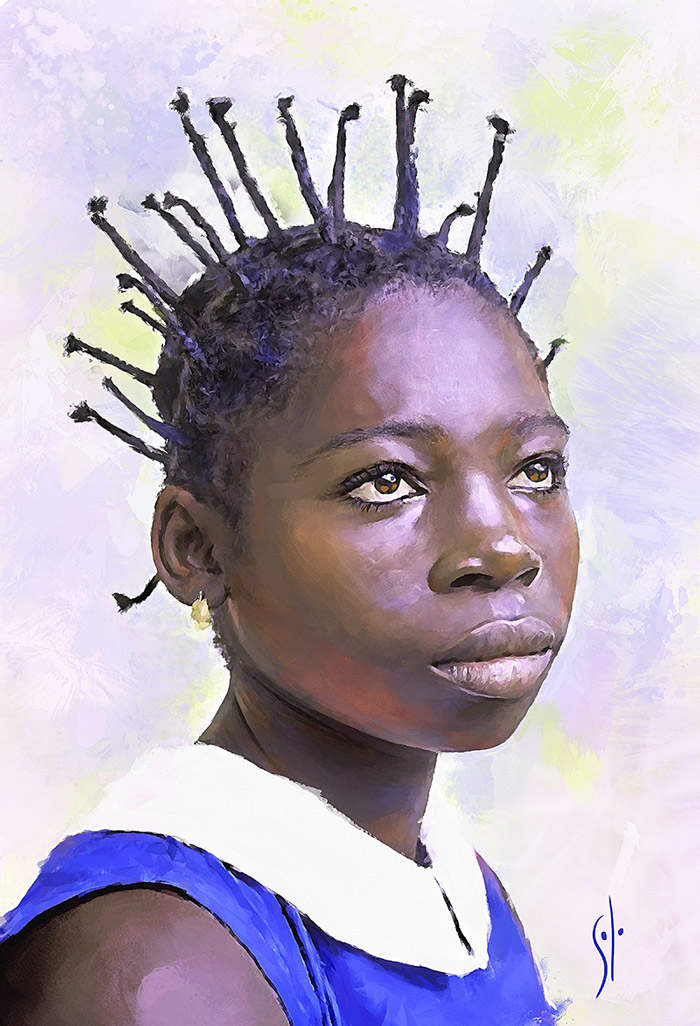 "crowned" 12 x 17 inches.
Do you paint professionally, as a hobby artist, or both?
Well, by definition I guess I could say I do paint professionally, since I've been paid to do paintings for people all over the world. But I can't say that I've exactly cracked the "commercial illustration" market per se, as in constantly working on commissions for companies, publications or ad agencies. I still supplement my art income with occasional freelance art direction work.
I honestly find it hard to define my creating art as either a profession or a hobby because it feels like a little of both. The primary goals I have been striving to achieve (in order of importance) for my entire "professional" life is to: 1) Really love what I do every day. 2) Get better and better at it, and 3) If I can also make money doing it, well that's great too!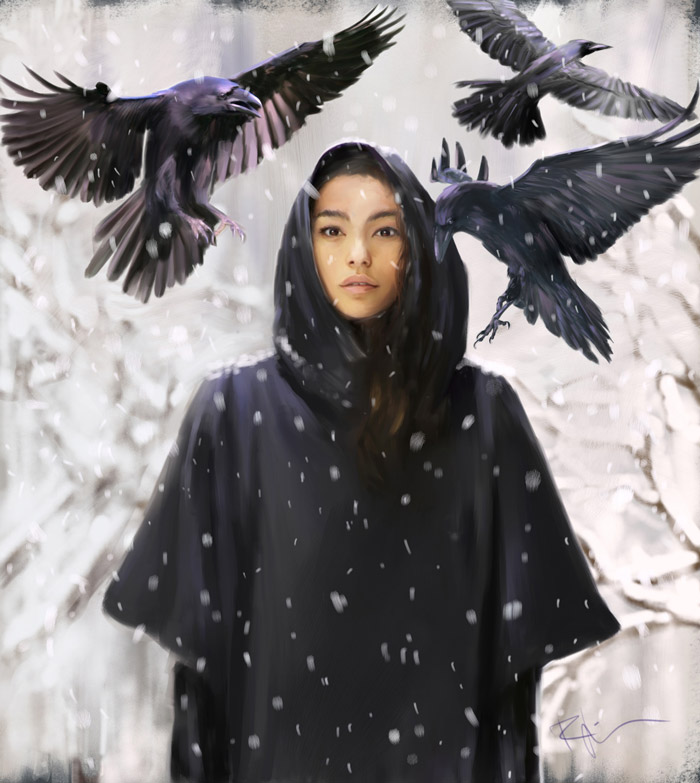 "Snow Ravens" – 16×19 inches – Mixed media
Sounds good! How have your goals been working out for you so far?
With my art, I feel I have finally achieved at least the first part of that goal, I do love what I am doing. I like to keep in mind some words that Steve Jobs once said, "The only way to do great work is to love what you do. Follow your heart and intuition. They somehow already know what you truly want to become. Everything else is secondary."
I believe if you are happy and passionate about doing your "work" the money and notoriety will eventually just happen.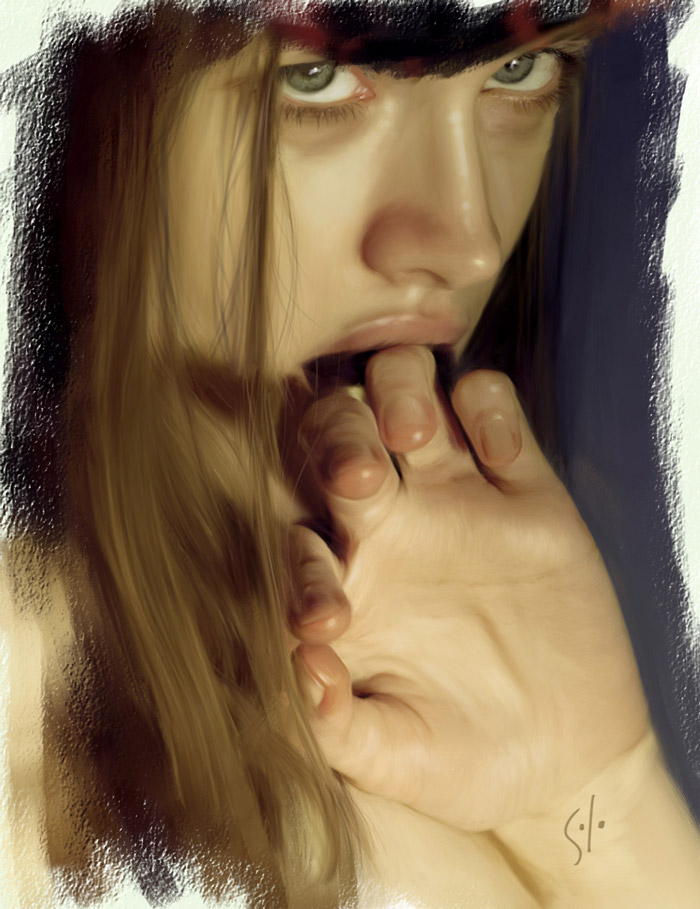 "Nibbler" – 34 x 45 inches
How do you typically start your paintings?
If I am not working on a commissioned piece and I don't have any immediate ideas in my head, I have a huge collection of images I've saved from all kinds of sources that I sift through for inspiration. If I find something that gives me an idea I then set about finding or creating a collection of related images to use as reference.
Interesting. What are your thoughts on painting from reference vs. imagination?
I work from reference images, usually many of them, that will inform my eye and my brain about things like anatomy, color, lighting, fabric, clothing style, backgrounds, hair, facial expressions, etc. Ideally I like to shoot my own reference photos or video, but this is not always possible depending on the idea.
Many people think that if you use reference photos for your work you are somehow "cheating" or "copying" something. To me this point of view is as wrong as saying digital art is not "real" art.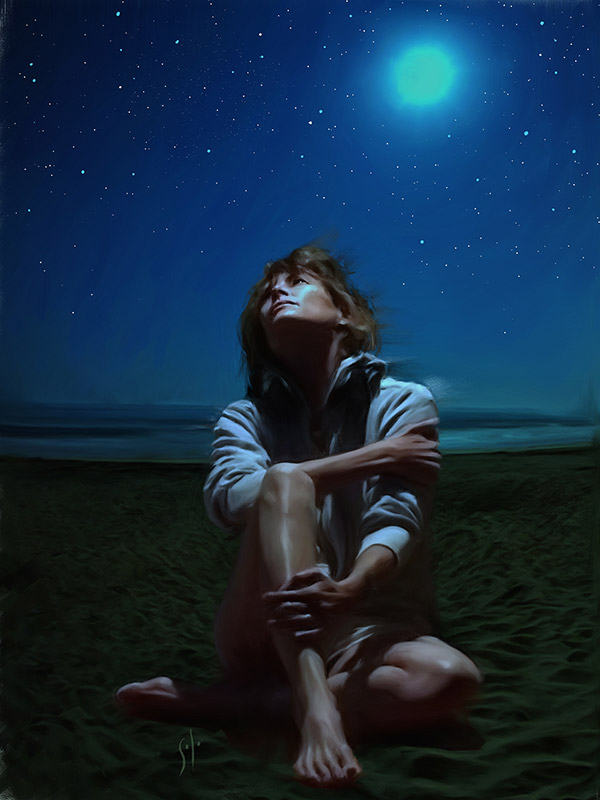 The old masters like Rembrandt and Caravaggio used reference in the form of live models who would pose for them for days as they worked out their paintings. Some old masters actually used mirrors similar to a device called a camera lucida to project and trace the image of these models onto paper or canvas.
As much as I'd love to have a naked woman sitting in my studio for days while I work, it isn't very realistic these days. And one of the best things about the information age we are living in is the endless wealth of imagery at our fingertips through the internet. So why not use it?!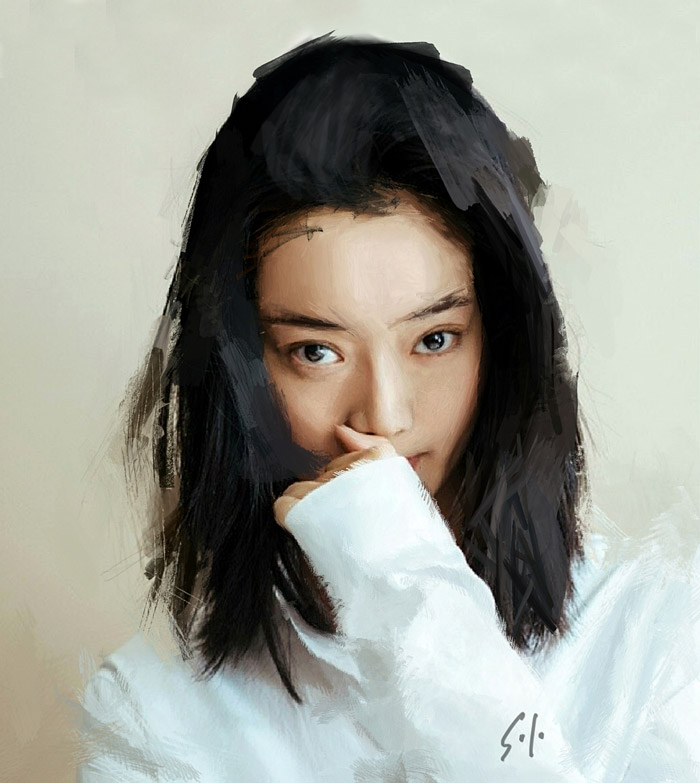 "Lily" – 8.5 x 9.5 inches – Mixed media
Absolutely, we couldn't agree more! Let's get technical now. What software and tablet do you use?
I work on a Mac Pro with 2.7GHz 12-Core Intel Xeon E5 processor and 64GB of RAM. I draw and paint on a Wacom Cintiq 27QHD Touch Display and have 2 additional side-by-side Apple 27 inch Thunderbolt displays. I have a Windows partition set up on my Mac so I can use both Mac OS and Windows software.
Do you start on paper or go straight to computer?
I very rarely start a project on paper anymore. I still keep a paper sketchbook and a little pouch of art supplies that I sometimes travel with. I will occasionally sketch and paint on the street or in a museum just for fun and practice. But for my main work I generally start with a digital sketch drawn on my Cintiq.
"horned" – 15 x 20 inches
What is your painting software of choice?
Because my style ranges from photorealism to loose painterly, I tend to use several art software apps throughout the process of doing a painting. Different apps have different strengths and capabilities. So depending on exactly what I am trying to do, I will choose the appropriate software tool for the effect I am after, and switch between them as needed.
I usually use some combination of Photoshop, Corel Painter, ArtRage, Rebelle, Twisted Brush, Krita and I've even dabbled a bit with ZBrush to sculpt objects like hands that I could not immediately find the right reference for. I'd actually like to spend more time with ZBrush. It's a blast and I could get seriously hooked on it!
Like I said before, I'm a real software geek and like to try everything that I hear about.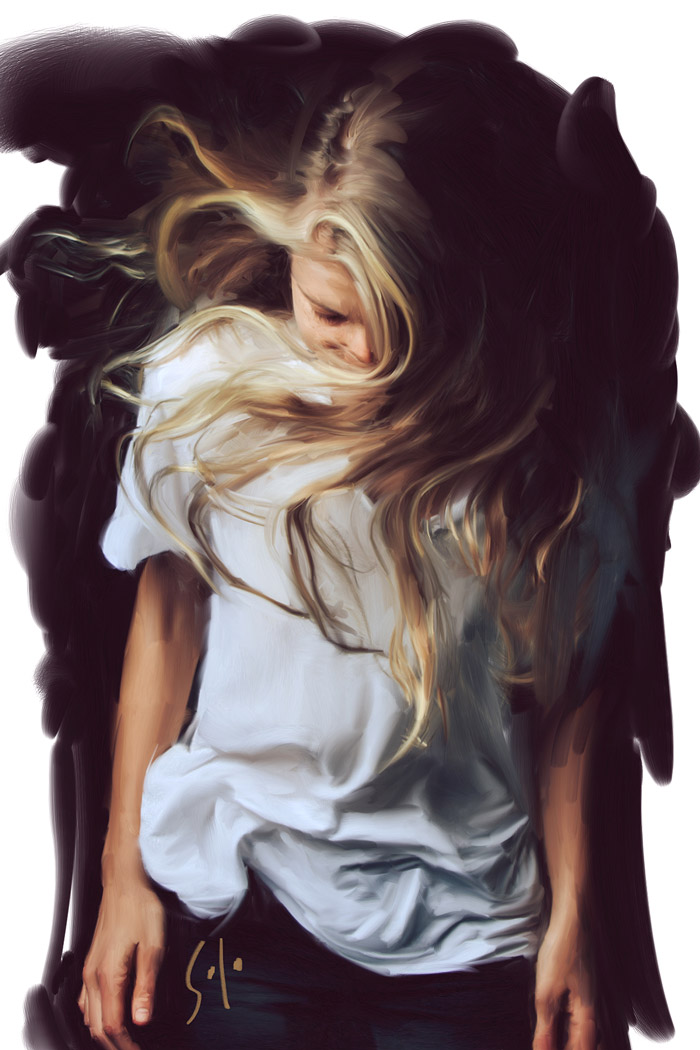 You mentioned that you occasionally mix traditional and digital painting. How did you develop this mixed media style?
I think I originally started combining digital and traditional painting because I felt that people did not respect a painting that was done totally digitally, no matter how incredible the art was or how beautifully it was printed. And sometimes I like the quality you can get by painting or drawing over a digital print on paper or canvas with acrylics, pastels, pencil, chalk, etc.
Do you have an example of a mixed media piece you've done? Could you talk us through your process for creating it?
My painting titled "Tung" is an example of one that combines digital and traditional painting. It started as a digital sketch. I then rough in colors, trying to work out the color palette, shadows and highlights, etc. Most of the brushes I use are custom brushes that I have created through much experimentation to mimic traditional mediums in texture and how they apply color to the surface.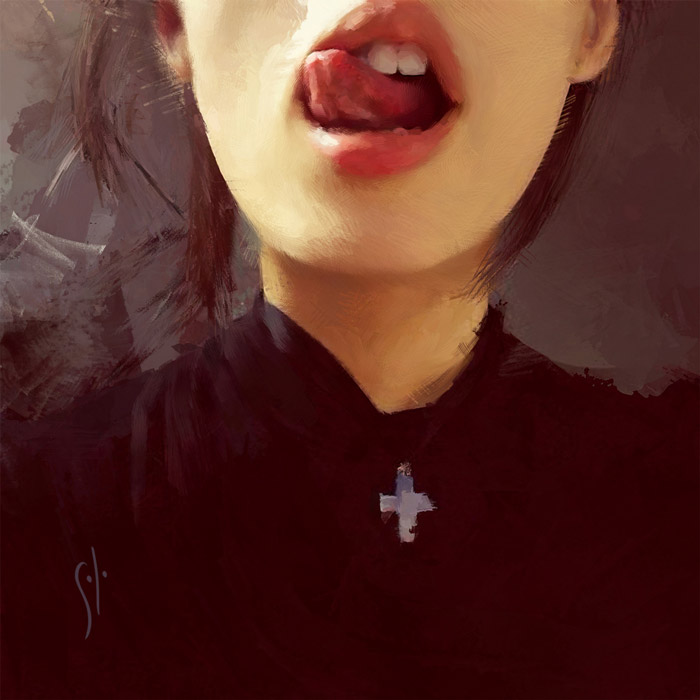 After I'm happy with the rough painting I begin to blend some of the colors, often using a soft, bristly brush that applies a new color with less pressure or blend the colors together if I apply more pressure. I start by working with large brushes and gradually work down to smaller and smaller brushes as I paint more detail. I have the button on my Wacom stylus set to change the brush size so I can constantly and instantly change sizes as I paint with a flick of my finger.
I think about what I might want to do later with traditional mediums as I paint digitally so I can leave certain areas flat or even blank to be painted in later with "wet" paint or traditional dry mediums like charcoal/pastels/pencils.
When I am happy with the digital painting I send it off to a really excellent fine art printer that I work with here in California. They are so meticulous in crafting giclée prints that they are artists in their own right. I work very closely with them to get the color accuracy and richness that I saw on my screen. I usually print on beautiful 100% cotton rag acid-free archival fine art paper, but I have printed a few portraits on linen canvas and even wood too. I like to have the finished print dry-mounted on gatorboard or masonite so it's fixed on something hard and solid.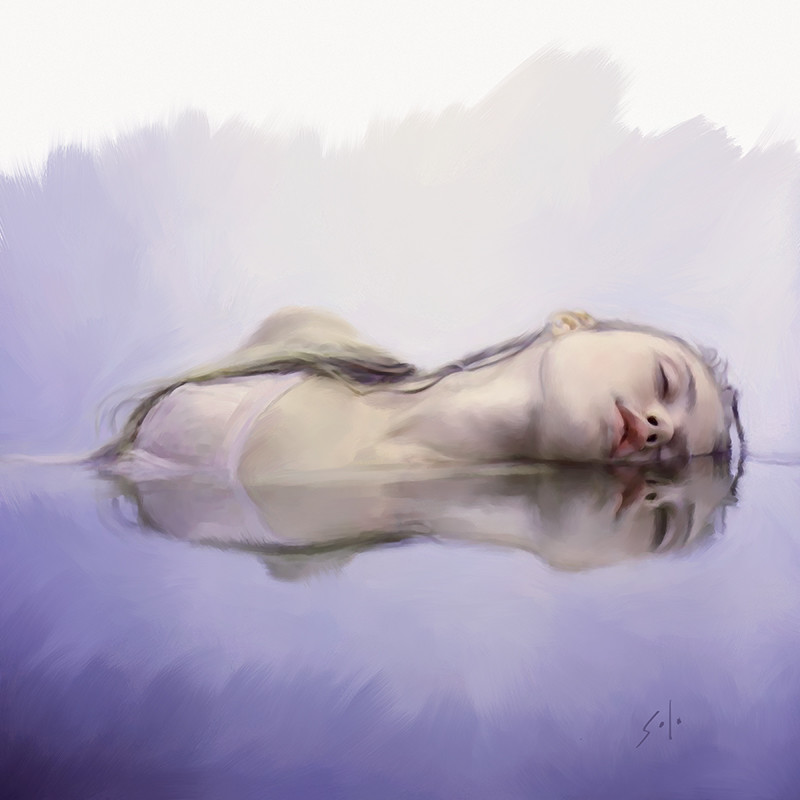 Interesting! So you add the traditional media at the very end, by painting on top of your digital painting?
This is the tricky part because there is no undo command at this point like there is with digital! I will paint in areas with acrylic or gouache or build up parts of the painting using pastel, colored pencil, etc. Thus adding the tactile strokes that silly people think makes something "real art." Then I finish the painting with several coats of acrylic glaze and there it is! A one of a kind "hand-painted" original, ready for framing and hanging in a gallery (or my studio)!
To be completely honest, I can't help but feel a small amount of resentment that I have to add this second technique of using traditional mediums to make some people in the art world feel that my art is valid and "real art." I honestly can do anything digitally that I can do with traditional tools and I'm looking forward to the day when the art buying public accepts digital art as equal to traditionally painted art. It happened with digital photography versus film photography and I think it will also happen with art eventually.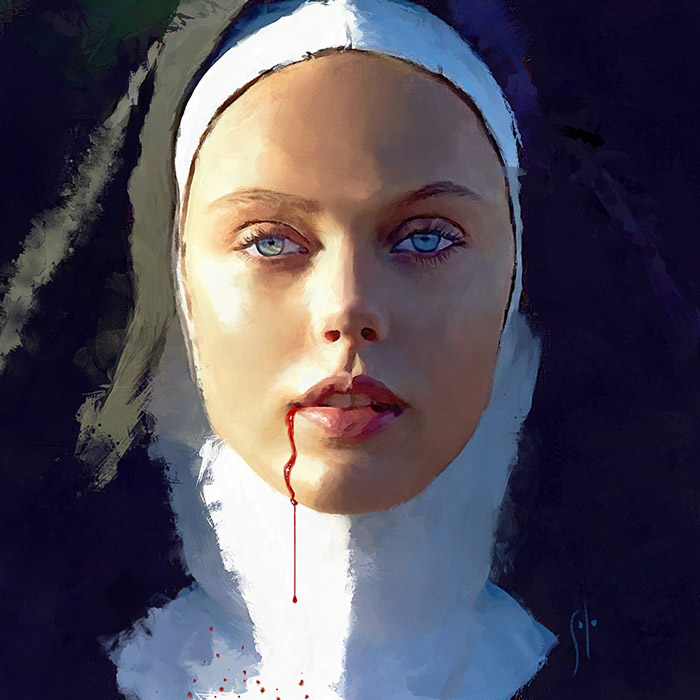 What is your biggest challenge when it comes to digital painting? How do you try to overcome it?
Probably my biggest challenge is the one I mentioned in the last question. Trying to overcome the prejudice against digitally created art versus traditionally painted art.
But another challenge, and this is actually kind of a happy one, is managing the completely unlimited options I have when painting digitally. Because I can literally do anything digitally that I can do with traditional paint AND also achieve many things that are completely impossible in the "real" world, the possibilities are ENDLESS. Having endless options at my fingertips makes me want to play for hours. Sometimes, I feel I could go on forever experimenting with all the tools and settings and trying out different ideas that pop into my head when I'm painting digitally. But then I would never finish the piece!! So I often have to pull myself back to reality and focus on just one path on which to proceed to build and finish a painting.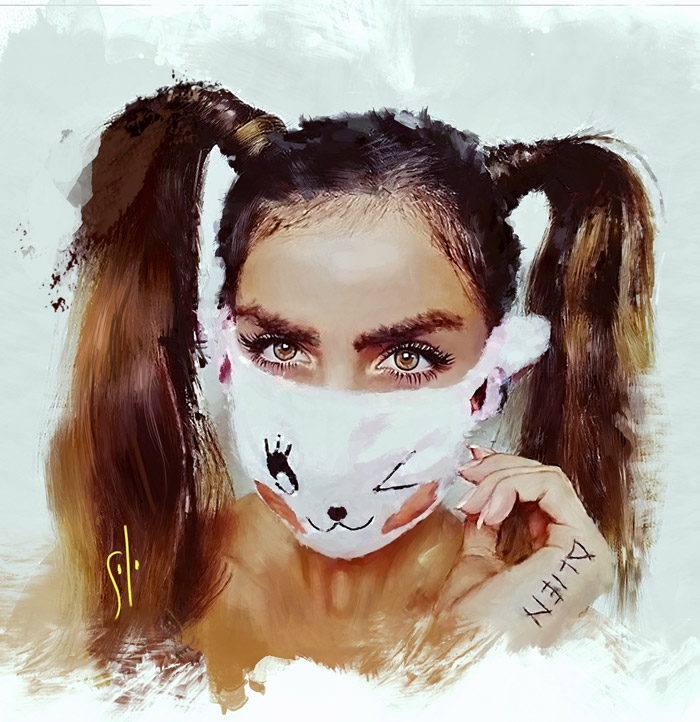 Where do you see yourself in 10 years?
In 10 years I would really like to be working continuously on art/illustration commissions of all kinds and have enough work requests coming my way to be able to pick and choose the ones I am really interested in doing. (HA! What artist would want that?!?) I've also been working lately to connect with various art galleries around the world and I'd like to be able to occasionally show and sell my work both online and in actual galleries. To me that somehow will put the "legitimate artist" stamp on my career.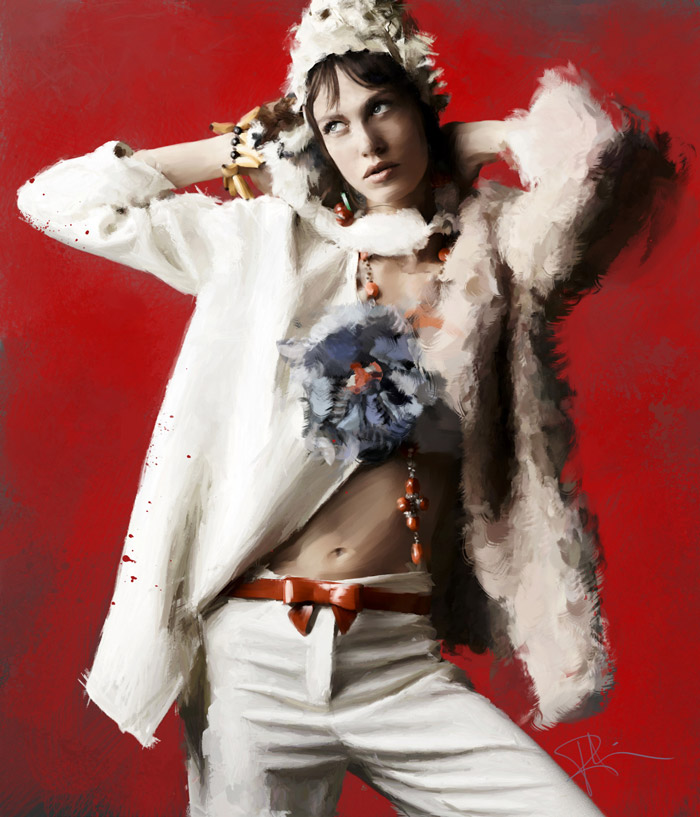 "Half Furry" – 14×16 inches – Mixed media
Thanks for the interview. Any tips or advice you'd like to give aspiring digital artists?
Thank you so much for the opportunity! I truly appreciate being able to share my thoughts with your readers. My biggest piece of advice to other artists would be to never stop exposing your eyes and brain to as much work of other creative people as possible.
Inspiration and knowledge comes from everywhere and the more you take in the more you can create. Also, THERE ARE NO RULES IN ART. Your work is not worse or better than anyone else's, it is just YOURS. And the fact that it is yours is what makes it unique and valuable. Never look at your art and think it is not as good as that artist you love on Facebook. If you are unhappy with the quality of what you are creating, keep working to improve it to YOUR standards, not the standards of others.
I doubt that Picasso ever looked at Rembrandt and said, "I'll never be as good as that guy." He did his own thing! Explore and develop YOUR OWN style and creative direction. What shoots off sparks in your brain and makes you create something is an ability that only YOU have. Use it!
Where to find Richard Johnson on the web:
28 'MUST HAVE' BRUSHES FOR PAINTING
Designed to Paint Incredible Portrait Details!