The magic in a portrait happens in the details.
When rendering digital portraits, the finishing details you add can make all the difference between being satisfied with your artwork and knowing you've created your latest masterpiece!
These details don't have to be hard, time consuming, or risk messing up what you've already worked hard to accomplish.
In fact, there are some quick and simple tricks I often use to take my portraits from soft and unmemorable to stunning favorites.
In this video I'm giving you 2 of my favorite quick tips to add subtle yet striking style and texture to boost the realism of your digital portraits. 
Want to learn more about painting portraits that get noticed?
This is just a small peek into the brand-new Advanced Rendering Techniques module just released within the Digital Painting Academy!
This module includes more than 20 videos with my best techniques to help you perfect your portrait rendering. It's a step-by-step tutorial where we create a realistic portrait together, starting with a sketch and finishing with stunning details.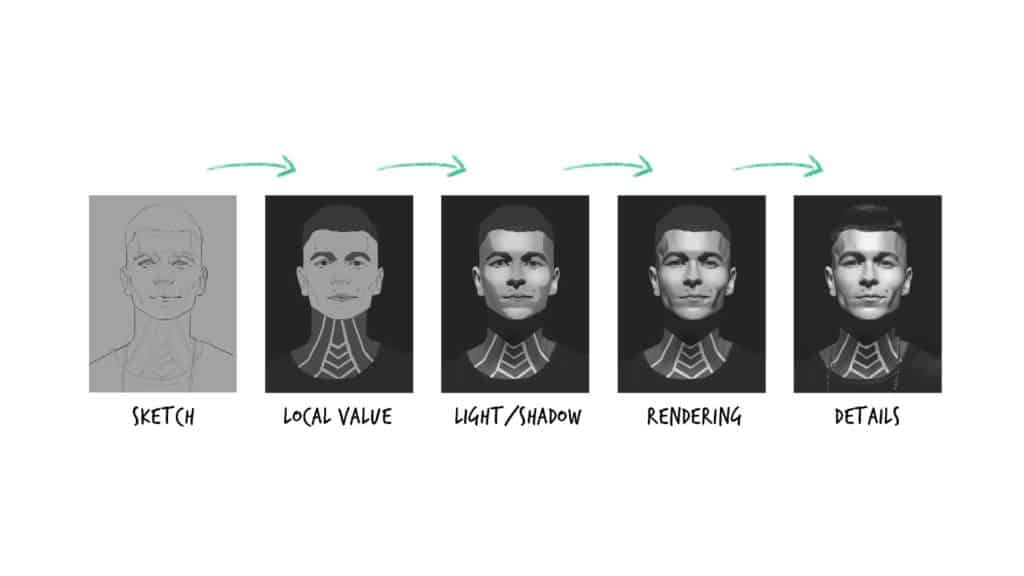 Inside, you'll find bite-sized lessons that focus on mastering all the stages of rendering your portrait, including:
how to layer light and shadows onto the face in the proper places
blending hard lines without losing structure or looking blurry
creating realistic skin texture (pores, creases, freckles, and more) so you portrait doesn't look "too perfect" or plasticky
rendering gorgeous hair, down to the roots
how to make lips look luscious and eyes mesmerizing
tips for using the tools you already have to correct proportions and make other adjustments
my best pro finishing tips that bring the WOW factor to your portraits
… and more!
And to get you started with your own portrait, I've included a downloadable kit with reference photos, sketches, local values, and examples to follow.
If you're wanting to learn how to render your paintings like a pro, you're going to love this module! Click here to learn more about joining the Digital Painting Academy.
40 'MUST HAVE' BRUSHES FOR PAINTING
Designed to Paint Incredible Portrait Details!