FREE Challenge
IT'S HALLOWEEN! Time to have some fun "carving" pumpkins- but this time, with our styluses. Join in on the fun, and create your first Jack-O'-Lantern digital painting with us! #PaintablePumpkin
Monday October 25 to Sunday October 31
What is the Digital Painting Pumpkin Carving Challenge?
Join Paintable in this digital painting challenge to create your creepiest (or cutest) Jack-O'-Lantern this Halloween!
There are 2 ways to participate:
Download the official Paintable "Pumpkin", and use it as a starting point to carve away your best pumpkin design EVER! or…
Design your pumpkin from scratch, using your very own sketches.
Make it your own: creepy, gorgeous, sinister, cute… show us your unique style!
Post your finished final artwork by Sunday October 31, on your social media with hashtag #PaintablePumpkin so we can find it. At the end of the week, prizes we'll be given to randomly selected Challenge participants (see all the details + prizes listed below).
Create Your Most Original Pumpkin EVER! In 3 Steps
If you'd like to start with the official "Paintable pumpkin", you can download it below. 
Then carve away! Design accessories and style the pumpkin completely to your own taste.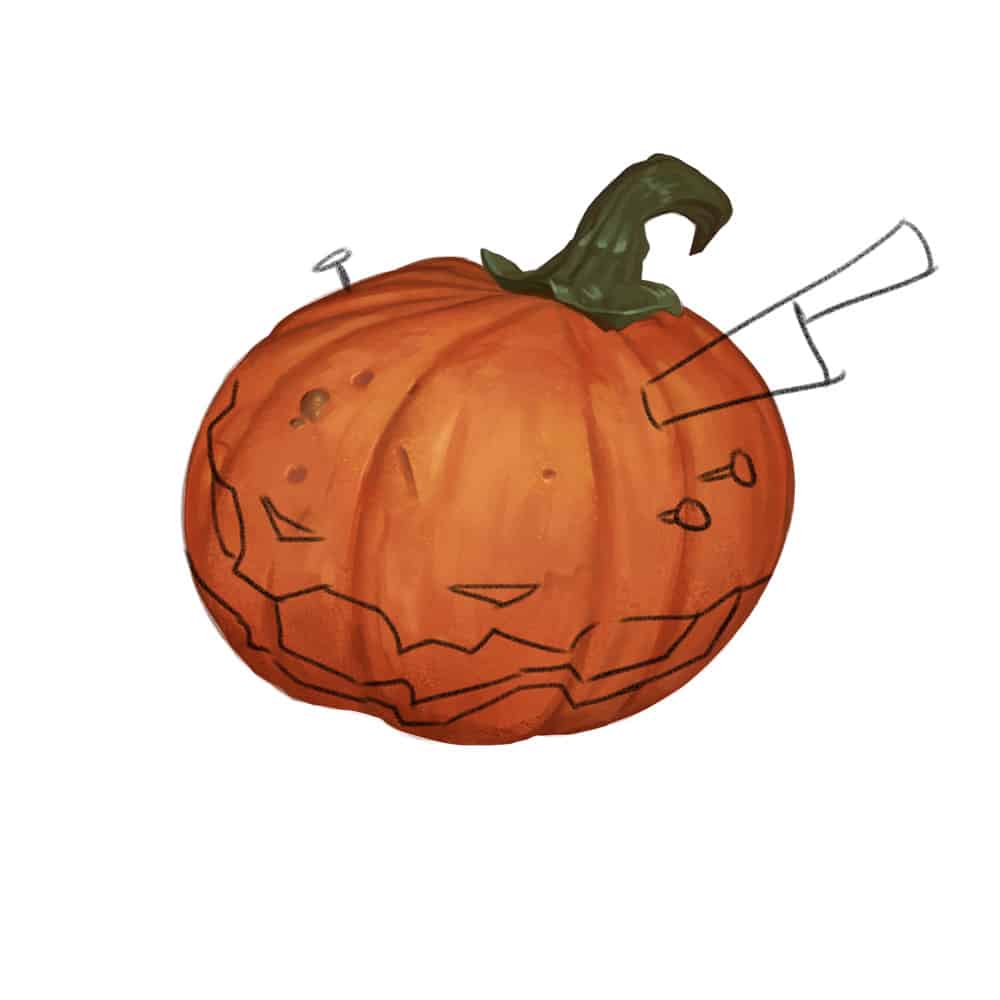 STEP 01: DESIGN IT
Add glowing eyes, a drippy nose, fangs, lipstick… anything you can imagine! Sketch it out until you're satisfied.
STEP 02: CARVE IT
Carve it by painting the pumpkin flesh, shadow, and highlights. Change the color of the background, get creative!
STEP 03: ADD DETAILS
It's here that you want to take your time and add the details to make it POP! You have one week to finish your pumpkin.
Get inspired by the other participants
Being surrounded by like-minded people is important. By joining the challenge you'll get the chance to participate with the entire Paintable community.  Click here to join the community.
Get additional chances to win the prizes by sharing your daily progress on all social media with the hashtag #paintablepumpkin.
Instagram: Share your daily progress with the hashtag

#paintablepumpkin

and tag @paintable.cc
Discord: Share your daily progress in the 

Paintable community

with the hashtag #paintablepumpkin
We've got awesome prizes waiting for some lucky Challenge participants!
Winners will be chosen at random shortly after the end of the Challenge so you don't have to be the best to win!
Three Lucky Winners Will Get lifetime access to The Kick-Start Bundle
Three lucky winners will receive a bundle of premium classes – the Paintable Kick-Start Bundle. 
This bundle is designed to help you paint digital painting with more ease by teaching core techniques about coloring, rendering, and of course sketching. See what is in the bundle here!
And thanks to our friends from XP-PEN, one lucky winner will also receive an XP-PEN Artist 12 (2nd Gen) Pen Display tablet. ♥
Frequently Asked Questions
Join The Fun! Download The Pumpkin Below.